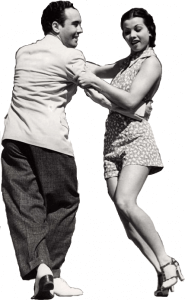 Bal at the Lucky Pig
Wednesdays
Add a shuffle to your step
Experience an evening of vintage sounds and dancing in this beautiful 1920s style cocktail bar in the heart of Fitzrovia. The Lucky Pig Cocktail Bar's extraordinary decor is a perfect setting for a night of Balboa. You can join the classes to learn this elegant Swing dance or drop in for some social dancing. Don't miss out on the venue's tasty food and decadent drinks!
Balboa classes:
7pm Intermediate  - Min requirements: Up & Down Basics, Come Around, Throw out, Out & Ins, Paddles. Please note, most people need at least 10 hrs of beginners before moving to intermediate
7.45pm Beginners  - No experience necessary or partner required.
8.30-10.30pm Social Dancing
Cost:
£5 per class / Free social 
The Lucky Pig Cocktail Bar, 5 Clipstone Street, Fitzrovia W1W 6BB Map
Nearest tube stations: Goodge Street, Warren Street, Oxford Circus, Regent's Park
Take a trip downstairs and experience the convivial blend of retro decor and classic cocktails with a wicked twist!
What is Balboa?
A close embrace swing dance whose heyday was during the 20s - 40s and today is often integrated with Lindy (known as Bal-Swing).  Perfect for very fast & mid-tempo swing music, it uses a full body connection and lots of intricate footwork & subtle variations.
Feeling a little peckish?
The Lucky Pig's tempting trio of homemade pizzas and carefully crafted platters are all packed full with the freshest of ingredients. Their food is all cooked freshly to order and tends to leap out of the kitchen, so we advise ordering early to avoid missing out. 

Cocktails - Good Times & Giggle Water 
The cocktail menu features classic, simple, but perfectly formed concoctions all served in beautiful glassware. The highly trained bar staff provide expert advice on the best cocktail to suit a particular mood or taste. Fizz-Rovia, Flappers D'Vine, Hit The Road Jack & A New Old Fashioned to list a few!
View The Lucky Pig's full menu here