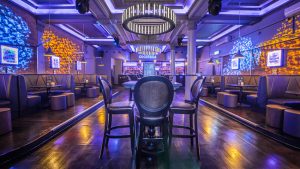 Venue
Swing at Sway can be held in the Club Room or the Cocktail Lounge at Sway Bar or at Ruby Blue Bar - please check the website!
Main Venue:
Sway Club
Club Room (downstairs)
61-65 Great Queen Street
WC2B 5BZ
Tubes: Holborn & Covent Garden
Map
Occasionally we move to:
Ruby Blue
1 Leicester Place,
Leicester Square,
WC2H 7BP
Tubes: Leicester Square & Piccadilly Circus
Map
Admission
£10 Class + Social
£5 Social only
Monday 26th February 2018

at Ruby Blue 1 Leicester Place, Leicester Square, WC2H 7BP
Wow, what a turn-out for the Swing at Sway Fundraiser for CICRA! Thank you so much for your support and generosity everyone. All proceeds for the evening, raffle takings and individual donations came up to a whooping total of: £1020! for CICRA - the charity for children and young adults with crohns and colitis
A HUGE THANK YOU to all!!
Don't miss the new social event of the week!
Beginners & Intermediate Lindy Hop classes
Dancing in the glamorous surroundings of the Sway Bar
7.30pm - Swing Classes (Running in parallel)
Beginners Lindy Hop No experience necessary, 10 week cycle start any week. Each week learn three new basic steps.
Intermediate Lindy Hop Min 10 weeks of beginners Lindy ( although some of you may want to do 2 or 3 cycles to really get to grips with the fundamentals) Challenging new routines, technique and exercises to bring out the best dancer in you.
8.30pm Social Dancing - Chat, drink & dance!
"What an amazing night! Great space, great vibe, brilliant tunes and air conditioning! I think Mondays just became a dance night again"
- Kafil Din -

"Was a great night and brilliant spacious venue. Highly recommend it."
- Susannah Fields -

"Well done gang for getting Monday nights swinging again !!"
- Nick Zienau -

Class instructors:
Simon Selmon (SwingDanceUK) dance champ, judge & international teacher with 30 years teaching experience
Anna Lambrechts (SwingDanceUK) Dance teacher & performer (Sugarfoot Stompers, Diamond Girls)
See Simon, Anna & the team on ITV's Paul O Grady show
And guests: 
26/02/2018 - Holly & JoJo
05/03/2018 - Onel & Loretta beginners / Niall & Holly intermediate
12/03/2018 - Niall & JoJo beginners / Onel & Loretta intermediate 
DJs:
Simon 'Mr Kicks' Selmon
And guests:
26/02/2018 - Andrew Willis
05/03/2018 - Niall & Holly
12/03/2018 - Loretta, Niall & JoJo
Sway hosts:
Anna Lambrechts & Simon Selmon
Holly France
Jo Pickering
Jo Franchetti & Tim Ball
Loretta Manson & Onel Brooks
Niall Oates
Nina Daines

What to Wear:
When attending classes, the most important thing is to be comfortable and to wear something you can easily move about in - jeans and t-shirt is absolutely fine. Some of our weekend club nights specify a dress code, but there is no dress code for our weekly classes.
Shoes?
Beginners: Comfortable every-day shoes are fine when you are just starting out. Make sure you have something which stays securely on your feet (eg. no flip flops!) and which you can spin easily in (very high heels or trainers with sticky soles are not recommended!). After a while, you may want to invest in some dance shoes from the Lindy Hop Shop.
Dancers: We recommend leather soled shoes